Friday, March 31, 2006
EYES LIKE ANTS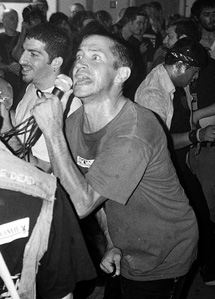 This photo of Larry of the Darvocets (Aaron in the background) from the
Painkiller Records
website is just so awesome, I couldn't resist posting it.
Chris
posted about their new release recorded at Smoke and Mirrors.
Comments:
That pretty much captures Larry.
Honestly, one of the nicest guys I've met in the whole recording at S & M experience. But when he turns it on... damn!
Awesome pic. I still like the darvocet t-shirt girl the best.
Damn, jackson, I've got some blog entries to catch up on... you've been on a roll dude!
Post a Comment
Links to this post: