Saturday, October 11, 2008
POWER TRIO
VH1 dedicated a whole day to the band a short while back, 'Rush Hashana' celebrated the Jewish New Year with 24 hours of Rush programming, featuring the concert films 'Rush In Rio' (2003), and 'R30' (2005), as well as a great many hours of Rush videos.
Young guitarist Aleksandar Živojinović, aka Alex Lifeson, formed Rush in Toronto, Canada, in August of 1968 with Drummer John Rutsey, and bassist/vocalist Jeff Jones. Bassist/vocalist Gary Lee Weinrib, aka Geddy Lee, replaced Jones a few weeks later.
Influenced by the Heavy Rock blasting out of Britain by acts like Cream, Hendrix, and Zepplin, the then still in high school members of Rush gigged locally as often as possible. After graduating, they expanded their horizons playing shows throughout Ontario, and frequently crossing the border into mid-western USA.
As it often happens to young dedicated musicians, after years of slogging it out in clubs they garnered a sizable fan base, but were given a very cold shoulder by the major labels. Again, as often happens with dedicated young musicians, Rush decided in 1974 to go the DIY route and record and release their debut record on their own Moon Records label. Engineered by Terry Brown, who would produce the band's first nine records, 'Rush' failed to make much noise until a Chicago disc jockey began giving 'Working Man' some air time. The song quickly took off, and Mercury Records stepped in, signed the band and re-released the record.
Soon after, John Rutsey quit due to health reasons. The band held auditions, and two weeks before their first proper US tour they found Neil Peart, who would go on to handle the lyric writing duties as well as provide the his legendary drum skills.
'Fly By Night' followed in 1975 and showcased what would become the classic Rush format, progressive but accessible Rock anthems (the title track) and epic fantasy based compositions ('By-Tor and the Snowdog').
Rush was ascending, their audiences were growing, and in an effort to strike while the iron was hot, they quickly returned to the studio to record 'Caress of Steel'. In retrospect, they might have been better off taking a few months to develop stronger material, as well as spending more time in the studio recording it. There are some good moments on 'Caress of Steel', 'Bastille Day', and 'Lakeside Park', but much of the album is fantasy oriented, including the side-long 'The Fountain of Lamneth', which made the record less accessible. The overall sound of the record is a bit lacklustre as well, suffering from a muddy mix that renders the album less than stellar.
Feeling the pressure to deliver, and cognisant of the fact that 'Caress of Steel' fell short of the bar, the band set out on a miserable tour they quickly dubbed the 'Down the Tubes Tour'. Mercury Records' response to 'Caress of Steel' was to pressure the band to concentrate on more commercial material for their next foray in the studio. Rush's response was to ignore the record execs, and press on with their vision. They knew that it was make or break time, but they were not interested in 'making it' if 'making it' meant compromise.
Fortunately for Rush, the resulting record, '2112', was a masterwork. Opening with another side-long song cycle, '2112', was a defiant move and a triumph. Whereas 'The Fountain of Lamneth' was meandering, unfocused, and lacking in punch, '2112' began with a brilliant and powerful overture that was followed by the slamming, super heavy and super catchy 'Temples of Syrinx'. A tale of a repressive future, and one man's struggle against it followed, and with it, Rush delivered the record that would finally land them on terra firma in the music biz.
The second side featured five nicely crafted and dynamic compositions. Beginning with their ode to altered consciousness, 'A Passage to Bangkok', and wrapping with the anthemic 'Something for Nothing', the second side offered a balance to the first, and together they set the bar extremely high for future Rush records. Rush was more than happy to rise to that challenge.
A much more successful tour followed, culminating in a three night stand at Toronto's Massey Hall, which was recorded for Rush's first live release, the double album 'All the World's a Stage'.
Rush and Terry Brown travelled to Rockfield Studios in Wales for their next studio effort. While 1977's 'A Farewell to Kings' didn't quite live up to the standard set by its predecessor, it wasn't hack job either. 'Closer to the Heart', a very accessible AOR staple, is surrounded by a dynamic assortment of songs, including two epic Prog riff-o-ramas clocking at over ten minutes:'Xanadu', and 'Cygnus X-1'.
'A Farewell to Kings' gave Rush their first Gold disc, and gave testament to Rush and Terry Brown's mastery of the recording process.
Returning to Rockfield Studios in 1978 for their sixth LP, 'Hemispheres', Rush stayed the course, delivering another fine album. The highlight is the nearly ten minute instrumental, 'La Villa Strangiato (An Exercise In Self-Indulgence), which has been responsible for many a jaw hitting many floors. Also noteworthy, 'The Trees' finds Neil waxing socio-political, albeit allegorically, and considerably cynical as well.
Another change in environment was needed, and Rush chose Le Studio in Quebec for 'Permanent Waves', and the result was another pivotal record that marked a new phase in their career. I chalk it up to confidence and comfort, but whatever the reasons, 'Permanent Waves' is Rush's maturing point.
Another Gold record, 'Permanent Waves' provided the band with two classics, 'Spirit of the Radio' and 'Freewill', and kept the Prog fans happy with 'Jacob's Ladder' and 'Natural Science'.
As good as 'Permanent Waves' was, and it was very good, it was, in the end, a pre-cursor, a taste of what was still to come.
What can one say about 'Moving Pictures'? It's hard to come up with the proper superlatives. It's certainly Rush's best work, and many, yours truly included, would praise it as one of the ten best Rock records ever made. The opening track, 'Tom Sawyer' enjoys an ubiquity that somehow defies becoming 'played out'. I always turn the radio up when I hear it, as I do for any of other songs on 'Moving Pictures' for that matter. Twenty-seven years later, the album continues to amaze and inspire. For the record, 'Camera Eye' is my pet cut, but every cut is exemplary.
Another live record followed, 'Exit Stage Left', and then it was time to try and follow 'Moving Pictures'.
'Signals' followed in 1982, and has never really hooked me. 'New World Man' was a successful single for the band, but 'Subdivisions' has turned out to have more lasting appeal, or at least radio presence. 'Signals' marked the end of Terry Brown's working relationship with Rush.
1984's 'Grace Under Pressure' had me worried that the band was on the decline. It sounded cold, dispassionate, and sterile to me. The single was 'Distant Early Warning'.
Nearly convinced that Rush was 'over', I was pleasantly proven very wrong by 1985's 'Power Windows'. The band seemed passionate again, and well crafted, powerful songs like 'Big Money', 'Manhattan Project', and 'Marathon' made me a believer again.
For my money, Jackson money, Rush hasn't made a record as good as 'Power Windows' since. Many wouldn't agree, but that's my opinion, and since I never purchased any of them, I have little to add other than to this day, on the stage, Rush has no competition.
Friday, October 10, 2008
MORE NEW OLD VINYL
Van Morrison - Saint Dominic's Preview
A good record, certainly better than 'Astral Weeks'. It's got 'Jackie Wilson Said' on it, that's the only radio cut, but listening to it I found 'Listen to the Lion', which I really like a lot, somewhat reminiscent of 'Into the Mystic'.
Steve Hackett - Spectral Mornings
Former Genesis guitarist's third solo release from 1979. I had my reservations about this one. A spin revealed a decent and diverse record. The guitar player from Marillion definitely had this record. I couldn't help but think of the Misanthrope when I plucked it out of the bins.
Salt 'n Pepa - Hot Cool Vicious
The debut from the female pioneers of Hip-Hop, 'Hot Cool Vicious' features the classic 'Push It'. Yep, push it real good.
Dead Kennedys - Too Drunk to Fuck (12")
A classic, it was only released as a single. Mine has a different cover.
The Saints - (I'm) Stranded
The debut LP from the seminal Australian Punk band. I've only ever heard the title track. I'm eager to dive in to this one.
Starz - Violation
A solid record from the under rated 70's Rock outfit, the problem is that I forgot that I already own it. That happens from time to time, with almost 2,000 records in my collection, I sometimes lose track. I figure Tony has it, so, anybody else want it? Mathdude?
Mountain - Nantucket Sleighride
The second record from Leslie West's doomed early 70's band, I picked it up for the title track which Andy Rock spoke highly of.
Cheech and Chong - Los Cochinos
The comedy duo's third album from 1973, it features the classic 'Basketball Jones'.
U2 - Unforgettable Fire
As stated previously on this blog, 'Unforgettable Fire' is my favorite U2 album. When I posted about U2 a couple of months ago I noticed the LP had gone AWOL, it's probably at the studio, but I picked up another copy just in case. Hey, for two bucks, what the hell, right?
Ruth Brown - The Soul Survives/Ruth Brown Testifies at Blues Alley, Washington D.C.
My cursory search found no reference to this Indie label release by the Soul/R&B legend, so I used this saucy photo of the woman who's impact on music deemed Atlantic Records 'the house that Ruth built'. I'm quite sure the album title says it all.
Taj Mahal - The Natch'l Blues
The second album from the uber influential and consistently congenial Blues and Folk superstar, released in 1968 at the height of his career.
Eddie Murphy - Comedian
Highlights from his groundbreaking and just plain funny as hell 'Delirious' film. This stuff never gets old.
Wednesday, October 08, 2008
WE LIKE THE MOON
It's sad that it has taken tragedy to get me back on the stage, but that's what has happened. A good friend and comrade in the trenches of pharmaceutical sales meetings suffered a brain aneurysm a couple of months ago. She now faces not only the challenge of a long gruelling rehab, but a staggering pile of medical bills. Being that Suzie is such a remarkable person, she has many remarkable friends who have come together on her behalf to stage a benefit concert to raise funds to help her family meet the costs of her various treatments.
The show will be Tuesday night, the 14th, at
R Bar
- 218 Bowery, starting at 7pm, and will feature, among other acts,
The Bone Dog Blues Band
, as well as Chrispy and myself performing as Smoke and Mirrors.
We'll be doing an acoustic based set with some electric elements. We spent a few hours today putting a set list together and re-learning the songs. We chose songs that would be suitable for an acoustic set, and were easy enough to whip into shape in 6 days. As it turns out, we're doing a number of cover tunes, about half the set, including:
The Guitar Song - Dead Milkmen
Teenage Girl - Darlings
There She Goes - The Velvet Underground
Halloween - Dream Syndicate
Take Me Out - The Waylons
Questioningly - The Ramones
Two of those bands, Darlings and The Waylons, are local NYC bands that we've recorded at
Smoke and Mirrors Brooklyn
.
The rest of the set will consist of original numbers, some of which have never been performed live. No, Virginia, there will be no 'Peace Chicken', but there will be 'Virginia'.
I'm excited to play again, and I'm proud to be a part of such a wonderful event.
Tuesday, October 07, 2008
A BAND BASED ON A PLAN, A PLAN BASED ON A BAND
In 1984 I began my lengthy tour of duty as an undergrad at the University of Maryland. At the time I was growing despondent at the state of Heavy Metal. All the good bands were starting to sound like the shitty new ones. I was looking for something new. I befriended a group of Punks who hung out at the Student Union. They were fun, freaky, and a refreshing departure from the typical U of M student. They gave me a different outlook on life, and they gave me the new music I was looking for. One of the many tunes that they exposed me to was a song called 'True Men Don't Kill Coyotes' by the Red Hot Chili Peppers. It was fresh, fierce, fun, and funky. Their self titled 1984 debut was quickly purchased and put into heavy rotation in Milkyum's Malibu.
We loved it. 'Green Heaven', 'Mommy, Where's Daddy', 'Police Helicopter', 'Baby Appeal', and 'Get Up and Jump' were highlights on an album that spoke to us, our sensibilities. The Red Hot Chili Peppers were silly, playful, irreverent, and reverent. A blend of P-Funk, Hip-Hop, and Hendrix, the Chili's were blazing a new trail in Rock.
Anthony, Flea, and Hillel were high school chums. Flea had a gig playing bass in Fear, and Hillel, along with drummer Jack Irons, had a band called What Is This. The four of them would sometimes perform together for shits and giggles, and were surprised when their 'joke band' garnered the interest of major label EMI. What Is This subsequently signed with MCA, and Hillel and Jack chose to milk that particular cow.
Undaunted, Anthony and Flea recruited drummer Cliff Martinez and guitarist Jack Sherman, and hit the studio with Gang of Four guitarist Andy Gill producing. Though big Gang of Four fans, Anthony and Flea found Gill difficult to work with. At the same time their relationship with Sherman was never very good. The album came out, they toured, and fell apart.
Fortunately, What Is This failed to pan out for Hillel. Sherman was replaced and the band traveled to Michigan to record their second effort with George Clinton producing. The resulting 'Freaky Styley' was much more to the bands liking.
Another disappointing tour followed, but things started looking up when Jack Irons came back into the fold for their third record, 'Uplift Mofo Party Plan'. The album actually charted, and morale was high despite increasing drug use on the part of Hillel and Anthony.
More Touring followed, including a European jaunt, and Hillel's health declined. An EP, 'The Abbey Road EP', featuring a handful of tracks from their previous records and a cover of Hendrix's 'Fire', was issued to buy some time until Hillel could rebound. He didn't. Hillel died of an overdose on June 25th, 1988. The dark drug scene did not sit well with Irons, and he left the band.
Eventually Anthony and Flea regrouped with drummer Chad Smith and guitarist John Frusciante and recorded 'Mother's Milk'. The album provided the band with their first successful singles, a cover of Stevie Wonder's 'Higher Ground', and 'Knock Me Down', an ode to Hillel.
The band gelled on tour, and with a newly sober Keidis they returned to the studio with Rick Rubin to record their smash hit 'Blood Sugar Sex Magik'. Suddenly, the Chili Peppers were superstars. Massive exposure overwhelmed Frusciante, who grew despondent and quit the band to pursue a drug habit of his own.
Guitarist Arik Marshall filled the gap for the 1992 Lollapalooza tour, and eventually Jane's Addiction's Dave Navarro joined the band. The recording of 1995's 'One Hot Minute' was clouded by Anthony's relapse, and Navarro's different approach to writing. The Chili Peppers work up material from jam sessions, and Navarro had difficulty with the process.
Inevitably Navarro left the band, but remarkably a fresh out of rehab Frusciante found his way back to the Chili Peppers. Another smash hit, 1999's 'Californication' followed, and the band, fuelled by Frusciante's prolific talent, cemented their place in the Rock pantheon.
'By The Way' was released in 2001, and found the band, at the behest of Frusciante, straying from the Funk and treading more subdued and textural waters. It sold bizillions regardless.
The band took it's time working on 2006's 'Stadium Arcadium', and the double album proudly displays the care and inspiration that went into it's creation. Frusciante's genius seems unlimited and boundless, and 'Stadium Arcadium' clearly demonstrates his dominance in the creative process.
In their third decade, the Chili Peppers seem unstoppable, certainly considering the tremendous amount of tragedy and personal struggle that they have encountered, and, more importantly, persevered through.
JOE WHO?
Who is this 'Joe Six-Pack' I keep hearing about? I don't think he's
exactly
stoked
to be saddled with such a moniker. I think he'd rather be known as 'Joe Six-Figure'. Just
sayin
'..........
NEW OLD VINYL
I picked up a few records the other day. Four slabs o' vinyl, 10 bucks; discovering a new band, priceless.
There's not a whole lot of things I love more than 70's Hard Rock, and to find a 'new' band from that era at this late stage is just short of miraculous. In my many years of flipping through record bins in search of the ever elusive Tank or M80 records, I had never come across
Dirty Tricks
. The cover of their third and final Polydor release, 'Hit and Run' (1977), caught my eye.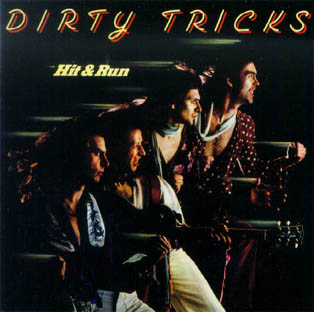 Upon closer inspection I noticed that the record had been produced by the legendary Tony Visconti (Bowie, T. Rex, Thin Lizzy). That sold me, and as I continued to peruse that particular bin of used LPs, I found their second record, 'Night Man' (Polydor 1976), and grabbed that one too.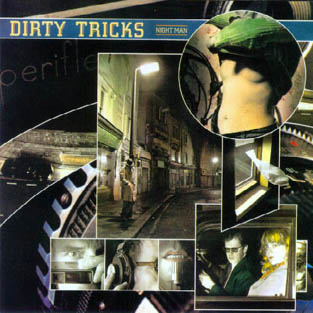 While Dirty Tricks is not the musical equivalent of the lost treasure of the Sierra Madre, they don't suck either. Dirty Tricks sound like a late 70's Hard Rock band, and that is good enough for Jackson. A British act, Dirty Tricks, after getting dropped from Polydor, briefly hooked up with Ozzy after he was booted out of Black Sabbath. I guess the magic failed to surface, and Ozzy soon bailed, headed to L.A., and found Randy Rhoads, who apparently was in possession of the magic.
I have almost purchased Roger Taylor's
'Fun In Space'
album countless times, as the Queen drummer's solo debut record has long been a frequent resident of the bargain bins. At 2 dollars, I finally bought it. I remember when it came out, and I remember thinking it could be a good record given the fact that Roger was responsible for some of Queen's more rocking and less pretentious tracks ('I'm In Love With My Car', 'Tenement Funster', 'Sheer Heart Attack', and 'Fight From the Inside'), but it's quick relegation to the aforementioned bargain bins and a total lack of recommendation via word of mouth managed to keep me gun-shy in respect to pulling the trigger on it's purchase.
My suspicions were well founded. While 'Fun In Space' is not complete crap, it ain't great either. Roger has a great raspy whiskey vocal style, and his drum chops are noteworthy. He is also a capable guitar player as evidenced by his guitar playing on Queen's 'News of the World' record, so it is not surprising that he played all the instruments ("approximately 50%" of the synth tracks were played by Engineer David Richards) on 'Fun In Space', which he also wrote, arranged, and produced.
What's wrong with 'Fun In Space'? Songs, or the lack of them. The songwriting is simply not that strong.
I had expected a Hard Rock record given his contributions to the Queen canon, but 'Fun In Space' finds Roger flirting with technology, opting for synths over guitars much of the time. Now, there's nothing wrong with that, but it feels like Roger was keeping up with the Joneses, or the Gabriels, or the Sumners more specifically, and the result is a great sounding record that lacks greatness in composition.
The cover art is cool as hell, though. Another Hipgnosis classic.
The fourth record I picked up was a 12" of the
Tom Tom Club's
'Pleasure of Love'. I confused this song with their timeless classic 'Genius of Love', which I thought would be a great addition to the collection. I envisioned it being pulled out at parties to enthusiastic response. Oh, well, wrong song. The kicker is that when I pulled the disc out for a spin, I discovered that it was severely damaged, cracked clear across the entire surface, unplayable.
Caveat emptor.