Sunday, September 28, 2008
ALL TOMORROW'S PARTIES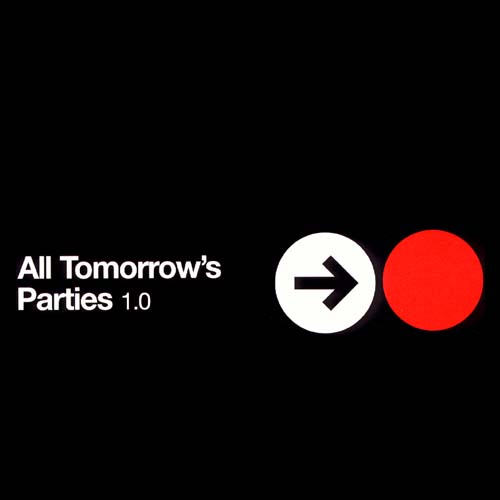 My old buddy and veteran of many psychic wars Rob Kendall invited me to attend yet another music festival to fittingly end the festival season, bringing my total for the season up to three.
All Tomorrow's Parties
was not only the biggest of the three, it was hands down the strangest and easily the best.
Held over three days at Kutsher's in Monticello, New York, ATP featured 40 bands stretched over two stages in what was truly a marathon of Indie Rock. Kutsher's is a beat up country club - think 'Dirty Dancing', embracing Rock as a means of survival in it's twilight. Despite the cheesy decor and the decidedly run down state of the place, or maybe partly due to those factors, Kutsher's was a great spot for the event. Attendees had the option of booking rooms for the weekend, a great idea that we opted out of due to the close proximity of Rob's parent's house, minutes away, and the graciousness of said parents in offering to schlep our drunken asses to and fro.
The festival kicked off Friday afternoon with Bardo Pond, who I've never heard of, and we missed due to traffic leaving NYC. We did make the
Meat Puppets
who performed their LP 'Meat Puppets II', which features 'Lake of Fire', which was covered by Nirvana at their MTV Unplugged performance. The band was loose, and singer/guitarist Curt Kirkwood seemed a bit less than engaged. Quite a bit of seemingly disinterested guitar noodling. On the other hand, his brother, bassist Cris Kirkwood, leaped about the stage like a madman.
Tortoise took the stage next and provided 45 minutes of instrumental Prog rock that bored the shit out of me.
Sonic Youth's
Thurston Moore
followed, his assembled band which featured SY drummer Steve Shelley accompanied the ever likable Moore as they performed his 'Psychic Hearts' solo effort. I like Thurston, I just wished I liked his music more than I do. I certainly respect his work.
Built To Spill closed the evening performing their 'Perfect From Now On' record. I'd never heard the record. Hell, I'd never heard Built To Spill at all, though I was aware of their prominence in the Indie scene. I can see why, they are very good. Tight as hell, catchy well crafted high energy tunes, the only drawback for me being the vibe I got from the singer, which I found to be off-putting in a certain arrogant way.
Day two kicked off with Alexander Tucker, a solo acoustic act. I found his use of loop stations interesting, certainly creative, but the solo acoustic thing bores me fast, unless it's Neil Young, and Alex ain't Neil.
We moved to the main stage for Apse, who I quite enjoyed. Rather chaotic, but there was something endearing about them, something positive and joyful amid the catharsis of their performance.
The Drones
followed Apse on the main stage. Hailing from Australia, the Drones were among a number of acts from around the world at this international festival, indeed there was a very large assortment of nationalities represented among the 2,700 attendees. I liked The Drones quite a bit. In contrast to their moniker, The Drones offer peppy, poppy, heartfelt Rock with plenty of positive energy and a lack of Bullshit type of candor that I found refreshing. I met the drummer later that day and resisted the urge to bring up Rose Tattoo.
After The Drones we headed back to the second stage to check out
Wooden Shjips
, who I'd never heard of either. Their name evoked hippiedom, but we'd heard positive things. Well, all I can say is that Wooden Shjips lacks strong tunes, but somebody in the band has more than one Uriah Heep record, and though their material didn't grab me, I dug their sound.
Rob was keen on catching the Fuck Buttons, probably due to their name. An electronic act, the Fuck Buttons didn't do it for me, and I bailed to go wander around, smoke weed, and cop a seat. There was no seating at either stage, and all the standing wore on me.
The Fuck Buttons were followed by Edan with guest Dagha. I thought Edan and Dagha were going to be some sort of World Music, maybe another hippy deal. Wrong. Edan and Degha delivered some refreshingly cliche free Hip Hop, and won my enduring affection with their use of Thin Lizzy's 'Johnny the Fox Meets Jimmy the Weed'.
A quick visit to the second stage to check out OM. A duo consisting of a drummer and a fuzzed-out electric bassist/vocalist, OM is a one trick pony whose novelty wore out fast. Long winded mystical chanting accompanied their plodding, trudging cro-magnon compositions. I took another walk.
Back at the main stage we caught Polvo. I was curious about Polvo, the Misanthrope had blogged about them recently, and I was looking forward to the set. The problem was that due to a typo on the provided line-up brochure, the entire time Polvo was onstage I thought I was watching a band called Autolux. Polvo was good, at least I remember thinking that while I thought I was catching Autolux, but looking back, I can't remember much about their set.
Les Savy Fav
was the highlight of the day, if not the whole weekend. I was wholly unprepared for what was unleashed in that theater when Les Savy Fav took the stage. Yet again, I'd heard of them, but I was not familiar with their music, and I certainly had no idea what was in store. I speak, of course, of vocalist and complete madman Tim Harrington. Harrington is a force of nature, part comedian, part drunken giant leprechaun, the fact that he's also a good singer seems almost ancillary when one witnesses the sheer insanity that he brings to the stage. While the band deftly made their way through the surprisingly upbeat set, Harrington explored the environment, climbing, running, jumping all over the stage, and spending equal time in the audience, all the while clutching a magnum of red wine, of which I'm sure he disposed of more than one. I was very impressed.
Shellac closed day two. Yet again, I'd heard the name, but it wasn't until they took the stage that I remembered that Shellac is Steve Albini's band. I suppose they're good, but I have Albini issues. Certainly I respect his work as a producer and engineer, but he's such a douche, and watching him front a band left me.....uh.....whelmed. I tried to ignore Albini's geeky stage presence, tepid vocals, and amateurish guitar skills by focusing on the amazing rhythm section, without which the band would simply suck out loud.
We arrived at day three in time to catch The Wounded Knees, supposedly somehow related to Mercury Rev, and consisting of two acoustic guitars (heavily processed), drums, and flute. The tunes didn't grab me, but the flute player (flautist?) was amazing. Jay Mascis (Dinosaur Jr.) sat in for the lengthy set closer during which he traded licks with the talented flute lady.
Robin Guthrie opened the main stage for day three. The former Cocteau Twin guitarist created sweeping reverb drenched soundscapes accompanied by a series of artsy video montages. I bailed during the second number to check out The Lillys on the second stage. The Lillys rewarded me with some sharp tunes with hints of Blur, Weezer, and Talking Heads. Not too shabby.
Back to the main stage for EPMD, I thought I was in for more Electronica, instead I got old school Hip Hop. I was pleasantly surprised. Mercury Rev was up next, another band I'd heard much about but managed to avoid. I was more interested in Spectrum at the second stage, I was familiar with Spectrum, an off-shoot of Spacemen 3. Of the three major acts to emerge from Spacemen 3, Spectrum most closely resembles the sound of Spacemen 3, but they lack the songcraft of Spiritualized, and the sonic boom of Sonic Boom. A bit disappointed, I joined Rob at Mercury Rev at a particularly messianic moment in their set. Grand is the word I'd use to describe Mercury Rev, that and, well, kinda gay. Good, but a bit pretentious, and kinda gay.
I've been due a live Yo La Tengo experience for sometime. Practically all my musician friends love Yo La Tengo. I even played a Yo La Tengo song when I was in Happy Boy. I'm sorry, but I missed something. Most of the time it was like watching Crazy Horse without Neil Young. I started in with the tequila. We caught a bit of 'You'll Know Us By The Trail Of Our Dead'. Very earnest Post Emo, well executed but lacking in the all important sack.
I continued with the tequila and was perfectly intoxicated for Bob Mould, the only act at the festival represented in my record collection. I love Bob, and he did not disappoint with a set culled from Husker Du, Sugar, and solo Bob. It was great. Absolutely fantastic.
By this point I was extremely drunk. I somehow managed to miss Mogwai altogether. I caught a bit of the way too loud Dinosaur Jr. set. Jay Mascis has three super-sized Marshall stacks. It was too much and I found a couch. By the time I made it back to the main stage My Bloody Valentine were wrapping up their much touted first American gig in 16 years. Ooops. Damn tequila.
I saw a lot of bands, probably too many.........
Saturday, September 13, 2008
A SOLO RECORD BY ANY OTHER NAME............

When all is considered, certainly at face value, one can hardly deny the fact that Peter Gabriel is a bit of a weirdo, a truly talented visionary, an innovator, but a weirdo none the less. From playing dress up fronting Genesis, to making music with primates, it's safe to say that Pete trods upon a different path, and damn am I glad of it.
One of the first things that impressed me about Gabriel when my brother Fred introduced me to him in 1983 was the fact that he had named all four of his initial solo records 'Peter Gabriel'. That's so weird. It forced his fans to develop alternative titles, Wet Car, Scratch, Melting Face, and 'Security', the last having the distinction of actually being sort of official as it appeared on the center label of the vinyl disc, a concession to Geffen Records, but not on the record jacket.

Okay, 'weird' may be a bit strong, at least for his post Genesis career, but that flower outfit was weird, as were many of the costumes he appeared in on-stage in those days, and the reverse Mohawk was truly weird.

As far as his solo era is concerned, specifically those first four records, maybe unconventional might be a more fitting adjective.
And it's that conscious lack of convention that made him an exceptional artist, his innovation a direct result of an effort to break from routine. It certainly doesn't hurt that he's a gifted singer and composer.
In 1975, after the difficult birth of Genesis' 'The Lamb Lies Down On Broadway', Peter parted ways with Genesis, ostensibly to embark upon a film career. No movie ever surfaced, and by 1977 Peter had signed to the fledgling Geffen Records, and released his first solo record, the first self titled record, the album with the wet car on the cover.
Produced by
Bob Ezrin
, Wet Car,
briefly reviewed here
, in summary, is a truly great record, as well as home to Gabriel's first Classic Rock staple, 'Solsbury Hill'. Whereas I accept that the third record, Melting Face, is the strongest of the four, Wet Car is my favorite. There's a lot of big production numbers - Ezrin? Big production? Really? - some quirky arrangements that provide a link to his past work, and some really fantastic songs, 'Solsbury Hill', 'Modern Love', and 'Here Comes the Flood' stand out, but the whole thing is magic.
Robert Fripp
, who appears on Wet Car as guitarist, was promoted to Producer for the second record. Released in 1978, Scratch suffers in comparison to Wet Car, mostly on the basis of the songs themselves. Scratch is much more introspective, quieter, and, well, weird. The record has grown on me over the years, and I do enjoy it, but outside of 'On The Air', 'DIY', and 'Exposure', it lacks punch. While Wet Car shows a great amount of musical diversity, on Scratch the diversity comes off as a bit meandering and unfocused.
For 1980's Melting Face, or Games Without Frontiers, as it is sometimes called, Gabriel brought in
Steve Lillywhite
to produce, but it was Gabriel's own notions of production that have earned him and engineer
Hugh Padgham
lasting recognition as innovators. Gabriel's vision was simple, no cymbals. No hi-hats, no crashes, no rides or splashes. The effect was two fold, it opened up the sound of the record, providing more space, a sharper focus, for the rest of the instrumentation, and notably, Peter's amazing voice. The great innovation, however, came accidentally. During a drum take, while the talk-back mic was on, Phil Collins hit his snare. The sound of that snare in the control room, passing through the massive compression of the talk-back system, created a sound that captivated Peter. In response, Hugh Padgham rigged up a similar compression scheme for the snare mic. They then added a noise gate, and created the soon to be ubiquitous 'Gated Snare' sound, an effect that would not have worked in conjunction with cymbals.
Melting Face contains two of Peter's more well known songs of the pre-'So' era, 'Games Without Frontiers', and 'Biko', while 'I Don't Remember', and 'Family Snapshot' stand out as wonderful compositions, and help to earn the record the outstanding status it enjoys. Melting Face is also a much more focused record, at least thematically, largely dealing with racism, exclusion, and social outsiders, culminating with the ultimate statement that is 'Biko'.
The last of the bunch, 1982's 'Security' provided Peter with his biggest hit yet, 'Shock the Monkey'. At the same time, the album is Peter's weirdest post Genesis LP. From tribal rhythms to ethereal ambiance, there was simply nothing conventional about it. Again, Peter the innovator, Gabriel the great embracer of technology, showed his pioneering ethos in the recording of 'Security' by being one of the first to go digital, as well as the use of sampling, another infant technology at the time.
After a big tour and a resulting live record, Gabriel cocooned for a bit, only to emerge in 1986 as the great entertainer with one of the biggest records of the decade, but that's another story, those records have names, weird one's too.
Friday, September 12, 2008
NFL 2008, WEEK 2
I'm not doing picks this year, at least not all the games like I've done the past few years. Instead, I'm just going to concentrate on the important games, by which I mean games involving the Jets, Giants, Saints, Falcons, Cardinals, Cowboys, and the cheating Pats. I'll probably also touch on other interesting match-ups, but mainly I'm going to stick to the actually relevant games.
Of course the big game this week is the Jets/Pats battle royal at the Meadowlands. Now, I'm no fool, contrary to popular belief based on absolutely insane statements made right here, but all that stuff is just entertainment. In all actuality I'm a man of reason, and reason dictates that even without Tom Brady, the cheating Pats are still a very dangerous and talented team. I mean all Matt Cassel has to do is get the ball near Moss and Welker and they'll do well. The X Factor, however, is two-fold. First, the Pats have to play on unfriendly turf, and you can bet that the Jets are going to show up armed with a mighty axe for some mighty grinding. There's more than just bad blood between these two camps, and X Factor number two, Brett Favre, is certainly capable of leading the Jets to victory. The lack of Brady simply closes the gap a bit, and hell fucking yeah I'll take it.
Jets win.
Indy/Vikings is a big game, both teams have something to prove. Indy has to prove that they are still the team to beat in their division, and the Vikings need to prove that they are as good as the hype. Let's face it, Jim Brown and OJ proved that a great running back does not equal championships.
Indy wins.
The Giants will beat St. Louis. Of course they'll let the Rams stay in the game, maybe even blowing a lead, before finally vanquishing the team that belongs in Los Angeles.
New Orleans travels to Washington D.C. (Maryland actually) to take on the Skins. I like new Redskins Head Coach Jim Zorn, as I was a Seattle fan back before Holmgren, before the new uniforms, before Starbucks, but I think he needs some time to work out the kinks in his offense, and I truly hope he's given that time. In the meantime they will lose to the Saints.
Atlanta has a big division game against Tampa Bay. The Falcons surprised a lot of people last week. It may be too soon to buy wholesale into the new Falcons, but I'm hopeful, and I think they will eek out a win.
Miami at Arizona, last year I would have picked them both to lose. This year they are both much improved. I gotta go with my man Chad and the Fish, as much as pains me to route for other teams in the Jets division. I'm nothing if not loyal. This one's for the Legal Diva!
San Diego will lose at Mile High to Jay Cutler and the Broncos. I don't really care who wins, but it's a big division match-up, so I suppose it's a big deal, to somebody.....
Pittsburgh will continue to dominate the AFC North with a victory over Cleveland.
The Eagles/Cowboys is probably the toughest game to pick. It could go either way. Both teams are playing very well, and though the Cowboys may be a stronger team on paper, I think McNabb is in the zone right now, and that coupled with my hatred of the Cowboys leads me to pick the Eagles, again despite their divisional proximity to the Giants.
It's going to be a very interesting year, the playing field overall has been greatly levelled, except for Northern California that is. What's going on in the Bay Area?
Go Jets!
PERSISTENCE GAINS RESPECT
I've been a Heavy Metal fan since 1979 when my brother Rod turned me on to Judas Priest's 'Hell Bent for Leather'. The timing could have not been more perfect, for in 1979 a fierce wind began to blow across the land of Hard Rock. It's epicenter was England, and it came to be known as The New Wave of British Heavy Metal. A tidal wave of Heavy Metal bands crashed ashore on both sides of the Atlantic, and indeed it's force was felt world-wide, in Japan, and notably in California.
While I was obsessively buying Saxon and Iron Maiden records, a Danish expatriate and tennis player named Lars Ulrich was doing the same in Los Angles. So strong was the lure of the Metal that Lars hung up his racket in favor of a drum kit and placed an ad in a local paper. That ad brought him his life-mate (no homo) James Hetfield, and Metallica was born.
I've often thought about this. How the members of Metallica were nursed on the same mother's milk as I, but as the seeds germinated, their tree bore much different fruit.
Metallica's gestation period ended in 1983 with the release of 'Kill 'em All', an only slightly classier title that the original, 'Metal Up Yer Ass'.
It wasn't until 1984 that I had the displeasure of hearing a few tracks from 'Kill 'em All', courtesy of a co-worker at a McDonald's in Ocean City, Maryland. The gentleman in question had all the earmarks of what I would come to expect from and associate with a Metallica fan. Not very smart, not very clean, and fiercely and boisterously supportive of his favorite band.
I didn't dig it, Metallica that is, my co-worker was a fun guy despite his fondness for Metallica, and looking back, I respect him for at least being at the forefront of Thrash, which is a sub genre of Metal that hadn't been named yet because Metallica had just invented it.
That's what this post is about, respect, because although I didn't take to Metallica, or the hoards of Thrash bands that would follow in their wake, they were the founding fathers of Thrash. Sure, just as the founding fathers of our country, they didn't just come up with their sound one day out of thin air. Others paved the way and provided some serious shoulders to stand on. Jefferson had Voltaire, Hamilton had Thomas Paine, and Metallica had Motorhead and Judas Priest. Like Jefferson and Hamilton, Metallica took from their influences those aspects that worked for them in their environment. They latched onto the precision, the seriousness of Judas Priest, but jettisoned the more melodic, the more accessible side of the band, and in it's place they dropped in the growl, the danger, of Motorhead.
It was a formula that worked, and indeed, in time, a formula for success.
So, as I've stated, I shunned Metallica, as I did all Thrash. I didn't like the vocals. Being raised on the Beatles I appreciated melody and harmony in a vocal performance, something totally lacking in Thrash, plus I didn't much care for the production. Tinny drum sounds, the lack of bass guitar in the mix, screeching high end barrages of sixteenth notes serving as solos, and the shouting approach to vocals all combined to put me off the genre.
By 84 Metal was dead for me, my Metal had been replaced by Thrash and Glam. Everything was driven to one extreme end of the spectrum or the other; caught in the void in between, I went elsewhere, Punk, Classic Rock, and the emerging synthesis of the entire canon of Rock, Alternative.
Metallica on the other hand blazed a trail of destruction across the world with their relentless touring, amassing an enormous fan base the old fashioned way, the hard way, one show at a time. I was increasingly finding myself inundated and out-numbered by Metallica fans. I'd find myself in conversation with fellow Metal fans, discussing the virtues of Judas Priest and Iron Maiden, and invariably they'd bring up Metallica, I'd let on that I wasn't a fan, and they'd look at me like I was talking about quadratic equations.
Then I met the Joe man, a true brother, a true friend, and a true Metallica fan. He even liked Anthrax for chrissakes! Joe and I bonded over a great many bands, U2, Jane's Addiction, Bauhaus, he even had respect for Kiss. Joe had good taste, and he liked Metallica. How could I resolve such confounding lack of reason?
At the time, '.....And Justice for All', Metallica's fourth and biggest album to date was selling at an an incredible rate despite the lousy production at the hands of Lars and James. The album sounded dreadful, but people were buying the shit out of it. Metallica's legions of worldwide fans propelled the record to the top of the charts. Without any real radio support, without any MTV presence at all, Metallica had climbed to the top.
Respect.
I hated the record, but you had to give 'em props. They had earned their success.
Then came The Black Album, or 'Metallica' as their landmark 1991 release was titled. Hell, you'd think that Hetfeild had spit on the mothers of his entire fan base, such was the response from the die-hard Metallica fans.
The band had come to realize the mistakes made in the production of ".....And Justice for All". They had money now, and with their new position of strength came the ability to spend some time on the follow up. The band enlisted producer Bob Rock, who's recent success with Motley Crue ('Dr. Feelgood') had him on the top of many a Hard Rock band's wish list for producers.
Bob pushed the band in ways they'd never been pushed. He made them record all the basic tracks live as a band, divorcing them from their previous studio methods of separate tracking, and in doing so producing a groove, a cohesion, that had been sorely lacking. Bob also found room in the mix for Jason Newstead's bass guitar, a huge development in the maturing of the Metallica sound, but it was with Hetfeild that Bob truly transformed Metallica. Bob forced James to sing, or at least shout with unprecedented melody, even pulling harmony parts out of the notorious barker.
The Black Album may have pissed off a lot of the core fans with it's polish, it's hooks and melodies, but those same attributes opened the door to mass appeal, and 'Metallica' definitely appealed to the masses.
I even liked it.
The Joe Man then dragged me to the former Brendan Byrne Arena, the now former Continental Airlines Arena, a place we call the Meadowlands, now the Izod Arena, to Metallica in the flesh. There was no opening act, just a short promo film, and then BAM!, Metallica pulverized the joint. I'd seen Priest, I'd seen Maiden, I'd seen Kiss twice, and I'd not experienced anything like it. If it wasn't for Lars' need to stand up behind the kit after every song to bask in his wonderfulness, I might have even been won over completely. Certainly their cover of Queen's 'Stone Cold Crazy' had me leaping up and down ecstatically, but in the end I just couldn't deal with the personality, well, two personalities, Lars and James.
Kirk Hammett always enjoyed a soft spot in my heart. Maybe it was his Heavy Metal Santana vibe, but more likely it was his lack of jerkness. Newstead was another non-jerk, stalking the stage ominously, flinging his bass about with abandon, no, it was the Jerky Twins, Lars and James, that put me off.
But I respected them.
Their next three albums fell on ever increasing indifferent and disappointed ears. Metallica had lost the plot, and as Hetfield's alcoholism began to poison the bands internal relations, culminating in Newstead's departure, Metallica embarked on a truly bizarre project. They hired a band therapist, returned to work on what would become 'St. Anger', and had the proceedings documented for a feature film.
Therapy is decidedly not Metal, and watching these millionaires whine and bitch about truly asinine matters did not prompt one to raise a fist in the air, but, regardless of what fans now thought of their exposed, flawed heroes, they were thinking about them at least. 'Some Kind of Monster' may have pulled aside the curtain on Metallica, but it made them relevant again.
Exposing themselves was a ballsy move. Again, respect.
They could have called it a day. Shit, they don't need the money, and as I'm sure Lars will gladly tell you, file sharing has destroyed a band's ability to rake in the millions via album sales anyway, but they soldiered on.
Persistence gains respect, and often persistence leads to perseverance. To that end, Metallica made a very smart, very respectable move. They brought in Rick Rubin to produce their next album, the recent release, 'Death Magnetic'. I've only heard one track, the single, I'm sure on the title, but I can tell you that it sounds like the Metallica of old, think 'Master of Puppets' with much better production.
I don't think I'll buy it, but I do respect it.
SHINE A LIGHT
So, uh, yeah....I never made it to the theater to see Martin Scorsese's Rolling Stones feature,
'Shine a Light'
. Well it showed up on the On Demand menu, and I thought about it for about a nano-second before committing the $4.95 to view.
So, yeah, I'm a bit, er.......conflicted.
I guess I thought it'd somehow live up to 'The Last Waltz', but no, not so much. I figured Marty's obvious love for The Stones (check his soundtracks) would bear out a great film. We'll, sort of. 'The Last Waltz' has better energy, better candid back story chatter from the musicians, and, as much as I'd hate to say it, stronger performances. The Band called on a great many more 'friends' to perform with them at their hootenanny, The Stones only brought out three.
I was mightily impressed, and pleasantly surprised by Jack White's duet with Mick on 'Lovin' Cup'. 'Lovin' Cup' is sacred territory, and I was a bit leery about it, having known in advance that it was coming my way. I was afraid of another horrible disfigurement of a Stones classic like that of a certain W. Axl Shithead and his
maltreatment of 'Salt of the Earth'
back in the late nineties. Well, apparently Jack has some affection, and respect, for 'Lovin Cup', as was evidenced by his reverential treatment, his obvious preparation - he knew the words, hell, twenty-odd years down the road and I'm not 100% on the lyrics to 'Lovin' Cup', and the sheer joy of the moment he displayed throughout. My God, imagine trading lines with Mick on 'Lovin' Cup'. I'd die from a joy overload.
The second guest was Buddy Guy. They played an obscure tune that, apparently, might have been written by Muddy, certainly performed by him, 'Champagne and Reefer'. Now, I'm going to love anything Buddy does, he's simply electrifying, and I'm also going to love a song that goes:
"Give me champagne when I'm thirsty
Give me a reefer when I want to get high"
Nobody was quite sure about the quirky 10 bar arrangement, it did seem odd, but it was a celebration on-stage, and Mick's harp playing proved a powerful contrapuntal element to Buddy's Strat on the barely stable musical see-saw.
The third artist to sit in with The Stones was Christina Aguilera on 'Live With Me'. Now, I'm on record as stating that 'Live With Me' is my least favorite song on an otherwise perfect 'Let It Bleed'. Many of you, and others as well, have argued the case for 'Live With Me', and I can dig your rap, my man, or woman, my person, if you will. I do love the nasty guitar stabs in the verse, but, I don't know, the song seems kind of a toss off, like 'Short and Curlies', or 'She Was Hot' (which they also performed). At any rate, I can see it's utility in a situation such as we're discussing. It makes a nice saucy 'Mick and Hot Chick' duet moment, reminiscent of similar moments of yester-yore with Tina and such, but, Christina, despite considerable chops, and a not too shabby, though a bit lean, physical construction, is not Tina. Tina and Mick were peers, contemporaries, they had simpatico, it worked. Christina and Mick, not so much. Gotta give her props for keeping up with the band though. Not a bad cup o' beverage, just not mine I suppose.
I think Keith had on off night. Strike that, I'm positive he did. The audio mix also seems a bit frantic with instruments darting in and out, a likely result of serious 'ducking' to hide 'unplanned tonal events' - we call 'em mistakes. I don't think I'd be up for telling Keith he fucked up, but Marty's camera's not only caught some of those events, they also caught Keith's glances to Charlie owning up to them. I suppose only Charlie enjoys the luxury of keeping Keith honest.

That brings up what is excellent about this film, however. The intimate onstage moments that Marty managed to capture are very enjoyable, moving, and effective. The Buddy Guy sequence is a great example. Not only does the camera lovingly capture a true Blues legend sharing a loose, largely unrehearsed jam with The Stones, it captures the magic, the magic conjured up by joy, that happens when talent and experience mix with abandon. Marty also managed to capture a special and telling moment as Keith and Buddy walked backstage after the song. Keith handed his black Gibson ES 335 to Buddy, 'take it, it's yours now', Keith says. This is not the action of a rich egotistical Rock Star patronizing a less fortunate comrade. Keith knows Buddy has plenty of guitars, as well as the means to acquire as many as he may desire, no, Buddy's doin' fine, as Keith well knows, no handouts necessary. It was an ancient act of chivalrous nature. The gunslinger knows he was bested, and in a gesture of respect, he hands over his side arm in acknowledgment of a schooling.
Time and again Marty captures the moments, like on 'Far Away Eyes' - brilliant pedal steel by Ronnie by the way - when Keith strode up the mic for the harmony part in the chorus - "....and you can't harmonize"...yeah, I know, ironic - and Keith blows the line and mutters "...aww fuck it." straight into the mic. Immediately Keith looks over at Mick, obviously pleading for mercy from the backstage barking he's sure is in store for him. Moments later, as the second chorus swings around Keith is obviously steering clear of his mic, and here comes Mick with his hand held mic imploring Keith to take another stab as they share the handheld. It's a touching moment of friendship, caught lovingly by Marty's camera jockeys. In years past, I don't think Mick would have been inclined toward touching moments of reassurance. No, I think in years past Keith would have received the tongue lashing (all puns intended) he was expecting.
It seems The Stones have arrived at a place of peace in respect to how they act toward each other. Like any marriage that lasts as long as theirs, forty-four years, a certain amount of acceptance settles over the union. You just have to survive long enough for it to happen, and in order to survive that long, you have to be in it for the right reasons. Pure reasons.
Marty may have caught the Stones on an off night, but he caught them loving it, he caught the purity in what they are, which is a forty-four year long homage to the Blues of Muddy, the Country and Western of Hank, and the Rock and Roll of Chuck.
Thursday, September 11, 2008
KNOW YOUR RIGHTS

Hey, assholes, it's my fucking blog, a place where I'm free to vent my hatred as I see fit. I hate the Patriots, and I hate Republicans. I suggest that if you are too much of a sissy to handle some strong language thrown at Republicans and Belichick's team of cheating shit weasels, then stay the fuck away, go to the thousands of 'I Love Tom Brady' blogs, go worship the book banning creationist and the doddering old fool she shares the ticket with at the thousands of websites dedicated to such idolatry.

Please.

If you love music, non cheating football teams, truth, justice, and reason, then please read on friend.

UPDATE:

Okay, I had just got out of bed when I wrote that, so I'd like to add the following addendum:

1) 'Anonymous' will always have fecal matter slung at themselves upon entry.
2) I don't hate anyone I know.
3) Please leave comments, if, and only if, they are more than mere diagnostic statements about my emotional state or psychological makeup. I have professionals working on that, thank you.

Tuesday, September 09, 2008
NFL WEEK ONE
Very exciting week. All my teams - Jets, Giants, Saints, won their opener. Favre brought his 'hail mary' as expected, and the Jets receivers responded well. Eli got Big Blue off to a great start, and although they slacked a bit here and there, they managed a win, and that's what counts. Reggie Bush woke up from his year long funk. Thanks Reggie, we'll see how the next 15 games go.
Tony's Falcons emerged from their dismal performance of recent years with a victory over Detroit at the hands of hitherto unknown Running Back Michael Turner.
Even Mathdude's Cardinals managed a win over, well, San Fran, but hey, it's win.
Tennessee's unexpected win over San Diego was interesting, as was Chicago's victory over Peytie Pie. It seems practice is important. Unless you're Plexico that is.
The nancy boy Cowboys beat the lacklustre Browns. Big deal, let's see how they do against a real team.
The big story is, of course, my prayers being answered in the form of Tom Brady's season ending knee injury. Sure, they beat KC, but I'm confident that Brett and the Jets will crush them next week. I've heard that if Matt Cassel goes down, the Pats have the so superbly qualified Sarah Palin waiting in the wings.
Sunday, September 07, 2008
LOOK IN THE EYES........
Book-Banning
Creationist
.
Look before you leap people. Go ahead, vote for McCain, if you want your children to grow up in a land of faith based ignorance. If you oppose a woman's right to choose, then by all means vote for John McCain.
I want to
believe
America is better than this. I really hope so.
Thursday, September 04, 2008
AND WE'RE OFF
Eli Manning runs it in for the first touchdown of the NFL season. Big props to Plexico for getting them in the red zone on the first drive.
Oh, it's on.....
CLASH CITY ROCKERS
I came late to the Clash party. I remember my brother Rod having the first two records, 'The Clash' (1977-UK, 1979-US), and 'Give 'em Enough Rope' (1978), but the first time I recall hearing the Clash was in Alex Mans' Road Crew Mobile Unit One in 1983. He had the first record in the cassette player and I remember hearing 'Hate and War'. I suppose I though it was okay, but not my cup o' beverage, at least not yet.
In the early 90's I made a mix tape at Rod's house that had selections from 'London Calling' (1979): 'London Calling', 'Brand New Cadillac', 'Jimmy Jazz', 'Lost In the Supermarket', and 'Clampdown', so I guess by then I'd come to appreciate the Clash.
Soon after I bought the first record on cassette, and by '97 I had become a full blown Clash fan, and had obtained all their albums on vinyl, with the exception of 'Cut the Crap' (1985), which I don't consider to be an actual Clash record due to the lack of Mick Jones.
What finally sold me on the Clash wasn't so much their seminal Punk sound, or the sociopolitical content of their songs. What sold me was the fact that they were a great Rock band. Joe Strummer's post Clash career serves only to point out that the Clash was indeed an example of the sum being greater than the parts. Mick brought hooks and melody, Paul Simonon brought credibility, and Topper Headon brought talent.
What I like the most about the Clash is the diversity of musical styles. By their third album ('London Calling'), they had moved beyond the limits of traditional Punk, expanding on the Reggae influence, and delving into a number of other musical frontiers.
Chrispy asked me recently where the Reggae came from. Certainly the Clash were not the only English Punk band to dabble with the 'crooked beat', they just did it better, or more authentically. The Reggae influence was two fold. Paul Simonon (bass) grew up in Brixton surrounded by Jamaican immigrants, Reggae was the soundtrack to his youth. The major factor, however, and this goes for the entire English Punk community, was
Don Letts
. Don was the house DJ at the Roxy, the first, and initially the only club in London that would put up with Punks. Don spun mostly Reggae, and thus the English Punk scene was born amid the sound of Roots Reggae, Dub, and Ska.
The Clash, in particular, were fascinated with Jamaican music. Their initial attempt at Reggae can be found on their debut record in the form of their cover of Junior Marvin and Lee Perry's 'Police and Thieves'. While a bit faster and more angular than the real thing, it was a notable and reverent effort.
The Clash's obsession with Reggae went beyond music as well. In aligning themselves with Reggae, they were consciously associating themselves with Rastas and Rude Boys - outcasts, criminals, and most importantly, political outsiders. The Clash, very early on, was as much a political organization as it was a band. Frantically trying to shed, or at least obscure the middle class roots of three quarters of the band (Paul was decidedly working class, hence the credibility previously mentioned), Reggae was a perfect touchstone for their personal historical revisionism. 'White Man In Hammersmith Palais', also from the debut record, though not Reggae, lyrically sums up the relationship between the band and Reggae.
"Midnight to six man, for the first time from Jamaica
Dillinger and Leroy Smart, Delroy Wilson, your cool operator
Ken Boothe for UK pop reggae, with backing bands sound systems
And if they've got anything to say, there's many black ears here to listen
But it was Four Tops all night with encores from stage right
Charging from the bass knives to the treble
But onstage they ain't got no roots rock rebel
Onstage they ain't got no...roots rock rebel
White youth, black youth, better find another solution
Why not phone up Robin Hood, and ask him for some wealth distribution
Punk rockers in the UK, they won't notice anyway
They're all too busy fighting, for a good place under the lighting
The new groups are not concerned, with what there is to be learned
They got Burton suits, ha you think it's funny, turning rebellion into money
All over people changing their votes, along with their overcoats
If Adolf Hitler flew in today, they'd send a limousine anyway
I'm the all night drug-prowling wolf, who looks so sick in the sun
I'm the white man in the Palais just lookin' for fun
I'm only looking for fun"
So wholly taken by Jamaican culture, the Clash decided to take a Jamaican holiday in early 1978 just prior to recording their second album. Their dreams of harmoniously integrating with the Kingston scene were dashed upon the rock of racial reality. Where they weren't shunned they were robbed and threatened. Jamaica was not Brixton. They high tailed it home after a few days. 'Safe European Home' from 'Give 'em Enough Rope' details the experience.
"Well, I just got back an' I wish I never left now
Who dat martian arrivin' at the airport?
How many local dollars for a local anaesthetic?
The johnny on the corner wasn't very sympathetic
I went to the place where every white face is an invitation to robbery
An' sitting here in my safe European home, I don't wanna go back there again"
But the love for the music remained.
'Give 'em Enough Rope' shows the band branching out in other ways as well. 'Julie's Been Working For the Drug Squad' offers a Swing feel, and 'Stay Free', Mick's touching ode to childhood friends gone astray, displays Mick's emerging strength as a Pop songsmith.
'London Calling', however, is where all the rules got tossed in the dustbin. Along with Punk Rock, Rock and Roll, and Reggae, the band took on Jazz, Rockabilly, and English Musichall. Paul Siminon's 'Guns of Brixton' finds the band very close to an authentic Roots Reggae sound. 'Death or Glory' is a Hard Rock anthem. 'Clampdown' is Punk grown up. 'Lost in the Supermarket' is pure Pop bliss. 'Jimmy Jazz' is a loose bluesy romp that nearly falls apart, only increasing it's charm. 'Brand New Cadillac' provides the Rockabilly, but it's 'The Card Cheat' that has earned my eternal devotion. A traditional English ballad with a traditional English arrangement about traditional English subject matter - love, death, and cheating at cards.
The Clash followed 'London Calling' with a compilation of B-Sides and out-takes, and again 'Black Market Clash' dishes up the Jamaican influence. Side one is all Punk Rock and Rock, even a cover of Toots Hibbert's (Toots and the Maytals) 'Pressure Drop' features a speedy Rock arrangement to a Reggae classic. Side two is all Dub. On 'Bankrobber', and 'Armagideon Time' the Clash completely nail the freaky echo laden Reggae sub genre.
'Sandinista' (1980) was an explosion of diversity. Over the span of three LPs the Clash continued to immerse themselves in a variety of musical styles, though the mammoth scope of the record often finds the band lacking in execution, much of it is excellent, most notably Mick's more accessible contributions - 'Police On My Back', and 'Somebody Got Murdered'. Paul returns to form with 'Crooked Beat', and Joe continues the struggle on tracks like 'The Call Up', 'The Leader', and 'Washington Bullets'.

1982's 'Combat Rock' was a decidedly reigned in response to the excess of 'Sandinista'. While providing the Clash with two massive hits, 'Rock the Casbah' and 'Should I Stay or Should I Go', it hasn't much else to commend it outside of 'Straight to Hell', which combines Caribbean and Asian motifs, and 'Ghetto Defendant', which features a spoken word performance by Allen Ginsberg.
The success of 'Combat Rock' propelled the Clash into the stratosphere of Rock stardom, which, predictably, killed the band.
I don't know if they were 'the only band that mattered', but they did leave a legacy, an indelible stamp on modern music, and that matters, it matters quite a bit.