Sunday, September 28, 2008
ALL TOMORROW'S PARTIES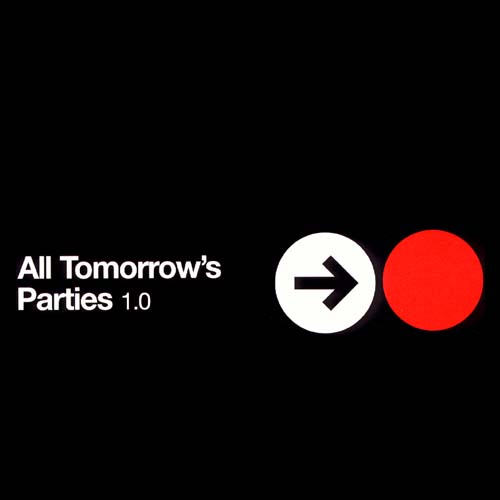 My old buddy and veteran of many psychic wars Rob Kendall invited me to attend yet another music festival to fittingly end the festival season, bringing my total for the season up to three.
All Tomorrow's Parties
was not only the biggest of the three, it was hands down the strangest and easily the best.
Held over three days at Kutsher's in Monticello, New York, ATP featured 40 bands stretched over two stages in what was truly a marathon of Indie Rock. Kutsher's is a beat up country club - think 'Dirty Dancing', embracing Rock as a means of survival in it's twilight. Despite the cheesy decor and the decidedly run down state of the place, or maybe partly due to those factors, Kutsher's was a great spot for the event. Attendees had the option of booking rooms for the weekend, a great idea that we opted out of due to the close proximity of Rob's parent's house, minutes away, and the graciousness of said parents in offering to schlep our drunken asses to and fro.
The festival kicked off Friday afternoon with Bardo Pond, who I've never heard of, and we missed due to traffic leaving NYC. We did make the
Meat Puppets
who performed their LP 'Meat Puppets II', which features 'Lake of Fire', which was covered by Nirvana at their MTV Unplugged performance. The band was loose, and singer/guitarist Curt Kirkwood seemed a bit less than engaged. Quite a bit of seemingly disinterested guitar noodling. On the other hand, his brother, bassist Cris Kirkwood, leaped about the stage like a madman.
Tortoise took the stage next and provided 45 minutes of instrumental Prog rock that bored the shit out of me.
Sonic Youth's
Thurston Moore
followed, his assembled band which featured SY drummer Steve Shelley accompanied the ever likable Moore as they performed his 'Psychic Hearts' solo effort. I like Thurston, I just wished I liked his music more than I do. I certainly respect his work.
Built To Spill closed the evening performing their 'Perfect From Now On' record. I'd never heard the record. Hell, I'd never heard Built To Spill at all, though I was aware of their prominence in the Indie scene. I can see why, they are very good. Tight as hell, catchy well crafted high energy tunes, the only drawback for me being the vibe I got from the singer, which I found to be off-putting in a certain arrogant way.
Day two kicked off with Alexander Tucker, a solo acoustic act. I found his use of loop stations interesting, certainly creative, but the solo acoustic thing bores me fast, unless it's Neil Young, and Alex ain't Neil.
We moved to the main stage for Apse, who I quite enjoyed. Rather chaotic, but there was something endearing about them, something positive and joyful amid the catharsis of their performance.
The Drones
followed Apse on the main stage. Hailing from Australia, the Drones were among a number of acts from around the world at this international festival, indeed there was a very large assortment of nationalities represented among the 2,700 attendees. I liked The Drones quite a bit. In contrast to their moniker, The Drones offer peppy, poppy, heartfelt Rock with plenty of positive energy and a lack of Bullshit type of candor that I found refreshing. I met the drummer later that day and resisted the urge to bring up Rose Tattoo.
After The Drones we headed back to the second stage to check out
Wooden Shjips
, who I'd never heard of either. Their name evoked hippiedom, but we'd heard positive things. Well, all I can say is that Wooden Shjips lacks strong tunes, but somebody in the band has more than one Uriah Heep record, and though their material didn't grab me, I dug their sound.
Rob was keen on catching the Fuck Buttons, probably due to their name. An electronic act, the Fuck Buttons didn't do it for me, and I bailed to go wander around, smoke weed, and cop a seat. There was no seating at either stage, and all the standing wore on me.
The Fuck Buttons were followed by Edan with guest Dagha. I thought Edan and Dagha were going to be some sort of World Music, maybe another hippy deal. Wrong. Edan and Degha delivered some refreshingly cliche free Hip Hop, and won my enduring affection with their use of Thin Lizzy's 'Johnny the Fox Meets Jimmy the Weed'.
A quick visit to the second stage to check out OM. A duo consisting of a drummer and a fuzzed-out electric bassist/vocalist, OM is a one trick pony whose novelty wore out fast. Long winded mystical chanting accompanied their plodding, trudging cro-magnon compositions. I took another walk.
Back at the main stage we caught Polvo. I was curious about Polvo, the Misanthrope had blogged about them recently, and I was looking forward to the set. The problem was that due to a typo on the provided line-up brochure, the entire time Polvo was onstage I thought I was watching a band called Autolux. Polvo was good, at least I remember thinking that while I thought I was catching Autolux, but looking back, I can't remember much about their set.
Les Savy Fav
was the highlight of the day, if not the whole weekend. I was wholly unprepared for what was unleashed in that theater when Les Savy Fav took the stage. Yet again, I'd heard of them, but I was not familiar with their music, and I certainly had no idea what was in store. I speak, of course, of vocalist and complete madman Tim Harrington. Harrington is a force of nature, part comedian, part drunken giant leprechaun, the fact that he's also a good singer seems almost ancillary when one witnesses the sheer insanity that he brings to the stage. While the band deftly made their way through the surprisingly upbeat set, Harrington explored the environment, climbing, running, jumping all over the stage, and spending equal time in the audience, all the while clutching a magnum of red wine, of which I'm sure he disposed of more than one. I was very impressed.
Shellac closed day two. Yet again, I'd heard the name, but it wasn't until they took the stage that I remembered that Shellac is Steve Albini's band. I suppose they're good, but I have Albini issues. Certainly I respect his work as a producer and engineer, but he's such a douche, and watching him front a band left me.....uh.....whelmed. I tried to ignore Albini's geeky stage presence, tepid vocals, and amateurish guitar skills by focusing on the amazing rhythm section, without which the band would simply suck out loud.
We arrived at day three in time to catch The Wounded Knees, supposedly somehow related to Mercury Rev, and consisting of two acoustic guitars (heavily processed), drums, and flute. The tunes didn't grab me, but the flute player (flautist?) was amazing. Jay Mascis (Dinosaur Jr.) sat in for the lengthy set closer during which he traded licks with the talented flute lady.
Robin Guthrie opened the main stage for day three. The former Cocteau Twin guitarist created sweeping reverb drenched soundscapes accompanied by a series of artsy video montages. I bailed during the second number to check out The Lillys on the second stage. The Lillys rewarded me with some sharp tunes with hints of Blur, Weezer, and Talking Heads. Not too shabby.
Back to the main stage for EPMD, I thought I was in for more Electronica, instead I got old school Hip Hop. I was pleasantly surprised. Mercury Rev was up next, another band I'd heard much about but managed to avoid. I was more interested in Spectrum at the second stage, I was familiar with Spectrum, an off-shoot of Spacemen 3. Of the three major acts to emerge from Spacemen 3, Spectrum most closely resembles the sound of Spacemen 3, but they lack the songcraft of Spiritualized, and the sonic boom of Sonic Boom. A bit disappointed, I joined Rob at Mercury Rev at a particularly messianic moment in their set. Grand is the word I'd use to describe Mercury Rev, that and, well, kinda gay. Good, but a bit pretentious, and kinda gay.
I've been due a live Yo La Tengo experience for sometime. Practically all my musician friends love Yo La Tengo. I even played a Yo La Tengo song when I was in Happy Boy. I'm sorry, but I missed something. Most of the time it was like watching Crazy Horse without Neil Young. I started in with the tequila. We caught a bit of 'You'll Know Us By The Trail Of Our Dead'. Very earnest Post Emo, well executed but lacking in the all important sack.
I continued with the tequila and was perfectly intoxicated for Bob Mould, the only act at the festival represented in my record collection. I love Bob, and he did not disappoint with a set culled from Husker Du, Sugar, and solo Bob. It was great. Absolutely fantastic.
By this point I was extremely drunk. I somehow managed to miss Mogwai altogether. I caught a bit of the way too loud Dinosaur Jr. set. Jay Mascis has three super-sized Marshall stacks. It was too much and I found a couch. By the time I made it back to the main stage My Bloody Valentine were wrapping up their much touted first American gig in 16 years. Ooops. Damn tequila.
I saw a lot of bands, probably too many.........
Comments:
Sweet wrap-up - like you, I'd heard of many bands in the lineup but haven't 'heard' them or do not listen too often. Kudos to you for drinking and shagging your way through the fest for your readers.
Post a Comment
Links to this post: