Thursday, May 22, 2008
APOLLO HEIGHTS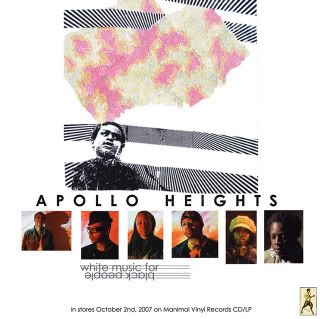 Tonight I went to see
Figo
at
The Annex
. It's always good to see the boys blast out the Rock.
The Drunken Fool made a point of lobbying me to stay for the last band,
Apollo Heights
. I had every intention of failing him on this point, but, as happens, I was having a good time hanging out with the gang, and before I knew it, Apollo Heights took the stage.
Wow.
Immediately I was blown away by the singer, Daniel Chavis. The dude has it all, pipes, presence, and straight up coolness.
Apollo Heights has much more to offer, though. Early 90's alternative guitars, think Cure meets My Bloody Valentine, courtesy of Daniel's twin brother Danny - that's right, Danny and Daniel Chavis, and the fabulously monikered Honeychild Coleman create a lush soundscape enhanced by keyboards, drum machine, and solid bass grooves.
Carrying on a great tradition laid down by Mother's Finest, Bad Brains, Living Color, and 247 Spys, Apollo Heights proves that Rock is not just a white man's game.
The brothers Chavis moved to NYC after the demise of their noted Raleigh, NC based band The Velt.
I'm glad they did.
Links to this post: