Friday, May 23, 2008
FOR THE LOVE OF MOTT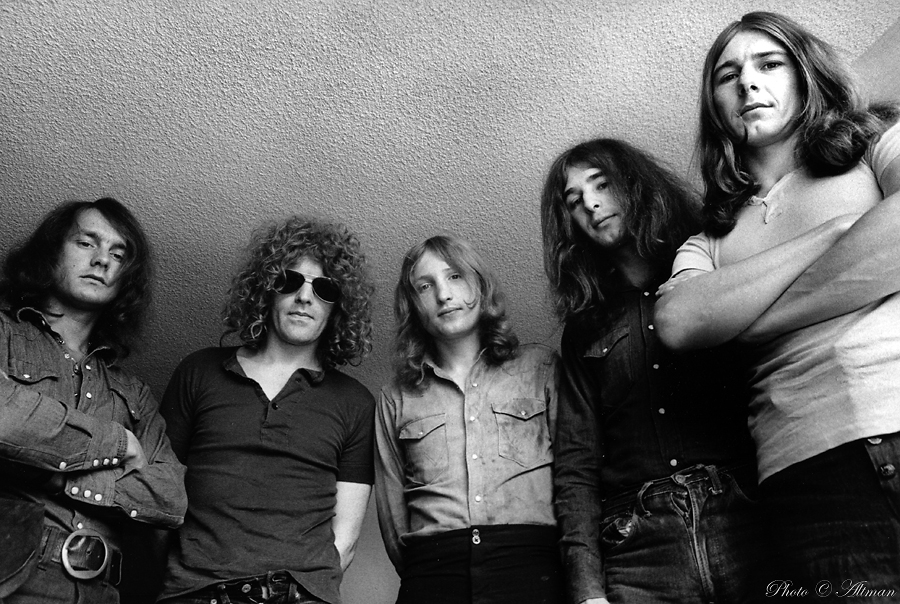 Tony thinks I hate Paul Rogers of Bad Company, but I don't. Paul is a great singer who fronted two seminal Rock bands, his contributions cannot be discredited. Tony thinks this because he's heard my Bad Company at the Hard Rock story more than once. What the story should imply is that I like
Mott the Hoople
more, and out of respect for Mr. Rogers, I waited until Mick Ralphs was alone to pay my respects. Plus, I think it's funny. I mean, in America at least, how many times does Mick get Mott love these days?
At any rate, here's the Jackson run down on Mott the Hoople:
In the late sixties Mick Ralphs (guitar), Pete 'Overend' Watts (bass), Verden Allen (keys), Stan Tippins (vocals), and Dale 'Buffin' Griffin formed a band called Silence based in Herefordshire, England. Tippins had to leave due to an injury, but around the same time the band caught the attention of producer Guy Stevens who managed to get the band signed to Island Records.
Relocating to London, Stevens made two major changes. He convinced the band to take the name Mott the Hoople (taken from an obscure novel about a freak show performer), and he brought in singer-piano player-guitarist Ian Hunter.
Their self titled 1969 debut fared reasonably well. Sadly I don't own it, and cannot comment on it's merits.
In 1970 they followed up with 'Mad Shadows' which sold poorly despite the fact that it's a fine record. The production is a bit muddy, but the songwriting and vitality of the band are apparent on classics like 'Walking With a Mountain' (backing vocals by Mick Jagger), 'Thunderbuck Ram', and 'No Wheels to Ride'.
'Wildlife' followed in 1971, and it featured a change in direction. The bombast of 'Mad Shadows' was replaced with a mellower country and folk vibe. Searching for an audience Mott was losing many of the few fans they had. Although the songwriting on 'Wildlife' was dominated by Mick Ralphs, Ian's compositions shine, notably 'Waterlow', a down-tempo number that establishes a style that he would continue to explore throughout his career.
Later that year the released 'Brain Capers'. Originally an attempt at self production, Guy Stevens was eventually brought in to rescue the record. A return to a heavier sound didn't help the record sell, and it failed to chart.
The smell of doom had set in. The tour that followed was disastrous, and on the 26th of March, 1972, the band packed it in.
One fan they hadn't lost was David Bowie, who convinced the band to give it another shot. Bowie got them signed to Columbia Records, produced their next record, and gave them a song, the mega-hit classic rock staple 'All The Young Dudes'. He initially offered them 'Suffragette City', but the band didn't like it.
1972's 'All the Young Dudes' brought life back to the band, and put them on the map, finally. The title track plus classics such as 'Sucker', 'One of the Boys' and a cover of 'Sweet Jane' drive the record. 'Ready For Love' would later show up on the Bad Company debut.
'Mott' followed in 1973, and cemented the prominence of the band. Featuring another classic 'All the Way From Memphis', as well as 'Honaloochie Boogie', 'Drivin' Sister', 'I Wish I Was Your Mother', and 'Ballad of Mott the Hoople (26 March 1972, Zurich).
The album was a smash, a huge tour in America with Queen followed, and then Mick Ralphs quit.
The band was fast becoming dominated by Hunter, and Mick decided to form Bad Company with Paul Rogers and Simon Kirke formerly of Free.
Luther Grovesnor, aka Ariel Bender was recruited and the band released 'The Hoople' in 1974. The album did okay, and it is pretty good. 'The Golden Age of Rock and Roll', 'Crash Street Kids', and 'Marionette' are great tunes, but the LP was thin in spots.
A quick live record was put out, the generically titled 'Live'.
Mick Ronson replaced Grovesnor/Bender, but the band degenerated into chaos, and Ronson and Hunter split to work on a Hunter solo career.
Mott the Hoople, what was left of it, managed to release two forgettable records before belatedly giving up the ghost.
Ian, well, that's another story.

Comments:
I remember a rant you went on when Rod and I were talking up Paul at sometime a long time ago. Based on that, I always interp'd your story as snubbing the dude. I laude your gentlemen tact now.
I think I'll do a Bad Co. post. I think one of the reasons I dig them so much was the fact that those first records were ALWAYS on the radio when FM was making a move to coolness. Those Bad Co. songs were prominent along side early Heart, Frampton, Eagles, etc... It was a great time for radio and a great time for Bad Co.
Post a Comment
Links to this post: