Tuesday, June 17, 2008
CONCERT ADDENDUM (BOY AM I GONNA GET IT FOR THIS ONE)
My recent Top Ten post attempted to list the most memorable and notable concerts that I have attended. As I was sure would happen, I missed a few.
Devo at Summer Stage in Central Park, 1996
Great show. Magical.
Blogged it
.
Tom Petty at Amsterjam, Randall's Island, NYC, 1997.
Tom converted
Figo
that night.
Red Hot Chili Peppers and the Dead Milkmen at the Academy, NYC, 1990
I'm so glad I caught the Chilis before the onslaught of 'Blood Sugar Sex Magik'. The Milkmen were touring 'Metaphysical Graffiti'. Outstanding energy from both bands that night.
Tom Petty at Music Midtown, Atlanta, 1996.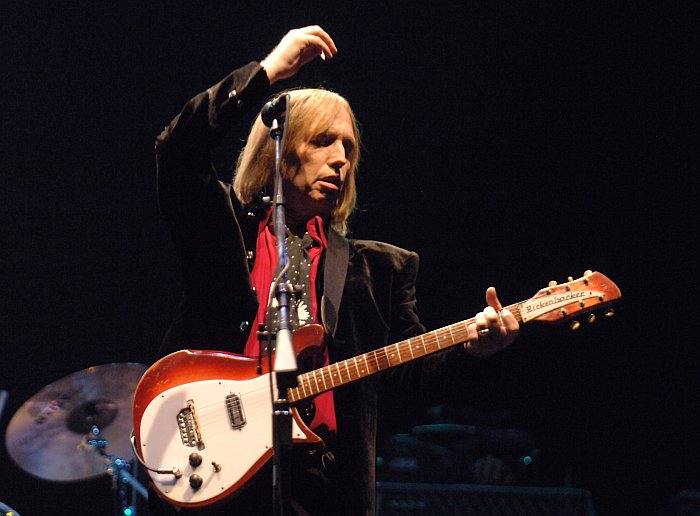 Often when I whip myself up into a frenzy in anticipation of a concert I get let down. This was not such an occasion, and man was I whipped up. During an early number in the set I had the opportunity to talk down an enraged Tony Alva. He was letting some jerk ruin his good time. I explained how he should let it go and enjoy the show. He did. It was a great show to enjoy.
Blogged it
.
Other notable acts at Music Midtown that year: Joan Jett, John Fogerty, Devo. Keith Urban surprised me with some fine guitar skills, and Def Leppard sounded like crap. Blogged it all:
Day One
,
Day Three
.
The Cramps at the Academy, NYC, 1990.
Jackson surfed the crowd. Lux Interior had a close relationship with his privates. Poison Ivy rocked her Gretsch fiercely while maintaining her feminine mystique.
Fishbone at Wetlands, NYC, 1995.
Angelo spent 80% of the show on top of the crowd. The place was packed tighter than any other show I had witnessed, before or since.
The Reverend Horton Heat at the Limelight, NYC, 1992.
Jackson got religion, as well as covered in sweat. I think there's a correlation.
Pink Floyd, Yankee Stadium, 1994.
Along with the Petty shows this is the most glaring omission from my previous post. Maybe because they were such mammoth events that they go beyond mere concert experiences.
In the summer of 1994 I was living in Albany, NY, about to attend the last year of classes of my marathon 10 year undergrad road tour. Eight of us scored Floyd tickets, and Brendan Gallagher loaded us all in his parents family truckster. My roommate at the time and I occupied the way back seat, the one in the station wagon that faces backwards. We had spent the weeks prior amassing an arsenal of intoxicants that would have made Hunter S. Thompson proud. We named our adventure the 'All Drug Olympics'. We had a case of beer, a bottle of Percodan, a quarter ounce of mushrooms, a half ounce of bud, a gram of coke, and a couple a' four or five hits of blotter.
Now, I know my mother will most likely read this, and so will the Legal Diva. They'll most likely shake their heads in disapproval, maybe make the sign of the cross, or even promptly try to block it all out, all of which are reasonable responses. I can only say that it was going to be a long day, we had a number of friends to share with, and that we were very careful about our irresponsible activity.
It's a two and a half hour drive to NYC from Albany. My roommate and I hit the beer and weed immediately. The reefer made it's way around the car, but only three of us were drinking. About 45 minutes outside of NYC we decided that it was time for a couple of caps and stems out of the bag of mushrooms, thus insuring a goodly amount of confusion and chaos when we arrived at Yankee Stadium.
When we got to our seats on the upper deck we took the acid. It was about a half hour before showtime. As you can tell, we put a lot of thought into our schedule, and the planning payed out in glorious sonic and visual gold doubloons.
Floyd travels with a 5.1 P.A. system that worked perfectly for Yankee Stadium, and more pertinently for our seats. We were dead center looking down at what would be the line from second base to home plate where the stage was set up. When the Binson Echo unit deployed by Dave Gilmour pumped the 'whom-whomp-whomp' in a cycle around the speakers which circled the stadium, well, words simply fail to meet the demand.
I couldn't make out any of the band on the stage which seemed a mile away. I didn't need to. Pink Floyd planned for that. The lights and the projection gave us plenty of incredible eye candy to keep us riveted as the music poured over us.
I don't remember doing any of the coke, I think we brought it along mostly because we wanted a lot of variety. I do remember that it was all gone at the end of the show.
After the show it was time for the Percodan. Being confined in a station wagon for two and a half hours with a head full of LSD is not a recipe for a good time. We knew that, and planned accordingly. The Percodan took off the edge as we settled in for the ride home.
I must thank Brendan for being the designated driver. Okay, he might have had a puff or two, but he laid off the heavy stuff and provided us with a truly great adventure.
Jackson does not recommend cross platform drug use. On this occasion we had strict rules of consumption, and we had spent a great deal of time training for the event.
It was, of course, a blast. A once in a lifetime event.
Comments:
I've been a Petty fan since I was 11. He must have been the first 'proper' musician I really liked, and remains my favourite artist now. But growing up in the UK meant that I never got a chance to see him, until literally two weeks ago when he came to Toronto, where I now live.
I've been waiting to see him since I started seeing bands live, about fifteen years, and he didn't let me down. Best gig I've ever been to. All the classics: American Girl, Running Down a Dream, Rebels, Refugee, even a Wilburies number. Absolutely awesome. I'm still in shock.
Post a Comment
Links to this post: